Channel 500
Cincinnati Bell has launched a new Fioptics channel dedicated to showcasing local business, sports, and entertainment. Channel 500 is now available to all Fioptics TV subscribers. Below are the schedules for this week.
Click here for Monday, Wednesday, Friday, and Sunday schedule
Click here for Tuesday, Thursday, and Saturday schedule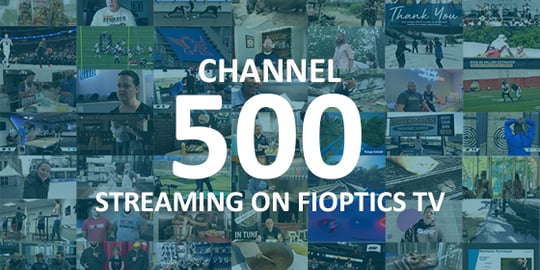 Access news, entertainment, and local content
Cincinnati Bell has worked with our TV partners to give all Fioptics customers free access to a variety of additional TV content.
Last Updated: June 18th, 2020
Looking for a particular genre of channels? Select an option below.
Family | Entertainment | Lifestyle | News and Info | Español
| | | |
| --- | --- | --- |
| NETWORK | FIOPTICS CHANNEL | DATE AVAILABLE |
| 👨‍👩‍👦 Family | | |
| | ch. 548 HD / 48 | Now - July 31 |
| 🍿 Entertainment | | |
| | ch. 500 HD | Now - TBD |
| | ch. 674 HD / 274 | Now - July 31 |
| | ch. 561 HD / 61 | Now - July 31 |
| 👩‍🍳 Lifestyle | | |
| | ch. 563 HD / 63 | Now - July 31 |
| | ch. 240 | Now - July 31 |
| | ch. 575 HD / 75 | Now - July 31 |
| | ch. 559 HD / 59 | Now - July 31 |
| | ch. 554 HD / 54 | Now - July 31 |
| 📰 News & Information | | |
| | ch. 673 HD / 273 | Now - July 31 |
| 💃 Español | | |
| | ch. 708 | Now - July 31 |
| | ch. 709 | Now - July 31 |